Skip to Content
Made-to-Measure Garments: An Affordable Option in New York
After spending decades creating beautifully-crafted bespoke garments, Mr. Barchi, introduced a more affordable line of made-to-measure pieces. This type of wardrobe is the perfect compromise for the discerning individual who is in search of high-quality garments with a less expensive price tag. Best of all- you will still be getting Mr. Barchi's tailoring and design expertise for a custom made made-to-measure suit.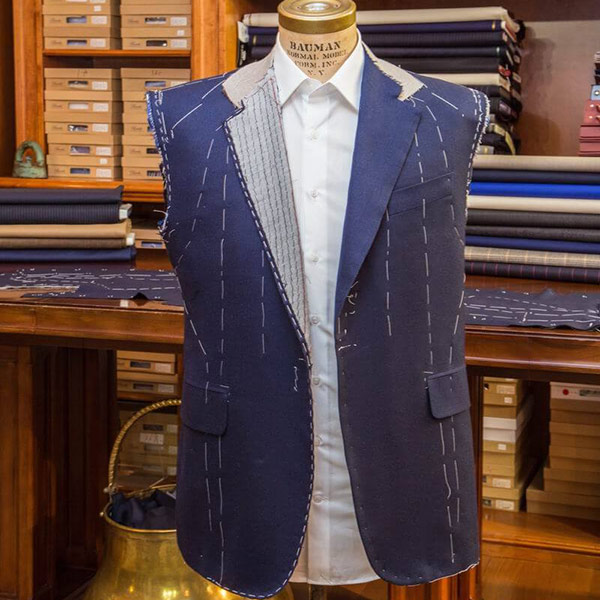 What is a Barchi Made-to-Measure Suit?
The Made-to-Measure wardrobe is the perfect fit for discerning clients who want the same high quality but with a less expensive price tag. Unlike a ready-to-wear suit that is manufactured for the average customer fit, Made-to-Measure is fitted precisely for the individual. Mr. Barchi's assistant, Maria Fiorillo, manages our made-to-measure line of quality suits. Hailing from Rome, Maria worked with some of the best custom tailors in Naples before beginning her position with us 25 years ago. She, as well as the rest of our team, will ensure your made-to-measure suit has an excellent fit. The process of designing your suit will include the following steps:
Measurements are taken by Mr. Barchi
Pattern adjustments are made from a standard pattern according to client's measurements and fabric is cut
Upon delivery, more alterations are completed in the workshop by Barchi tailors
High quality but less expensive than Bespoke
Build Your Made-to-Measure Suit Today
We're ready to start creating your custom suit whenever you are. The process begins at our showroom, where you'll find a large selection of suiting and lining fabrics handpicked by Mr. Barchi himself. We'll help you choose the best fabric options to meet your style and your needs. Visit us today and let us help you build the perfect suit at a lower price point!
Dress to Impress with Barchi Bespoke Tailor & Shirt Maker